Sell Your Products Online
---
E-commerce, E-tailing, Online shop, whatever you want to call it, it doesn't matter to us.  It's how many products you sell and how can we improve it that's important to us.  Quite often its the small things that make all the difference.
What makes a shop successful?
Here are a few things we have picked up over our many years in the business:
People who know the product
Products that occupy a small niche
Business who have a clear objective
Selling things that Tesco's don't!
We're delighted to meet up and share our coffee with people who are considering selling online and want to explore the options.  No obligation, but I guarantee that you'll leave knowing more than when you came.  Call 01952 457392 or complete this form to arrange a meeting or ask a question.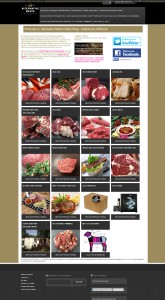 We first started working with Alternative Meats back in 2002, creating their first online shop which delighted us both in terms of sales.  
Champions of AlternativeMeats.co.uk include Rick Stein (he put them in his Food Heroes book), and they do a bit of work behind the scenes with a famous Scottish Chefs researchers to find unusual and exciting foods.  They have also featured on Ready, Steady, Cook and Radio 4s The Food Programme, not to mention numerous local radio and TV appearances.
These guys tick all the boxes as far as running a website goes.  The new design went live in June 2013, and runs on the amazing Magento platform.  We have a server set up specifically to run our E-commerce sites which is PCI DSS compliant.
Visit the site and buy some stuff: http://www.AlternativeMeats.co.uk
Go To Top