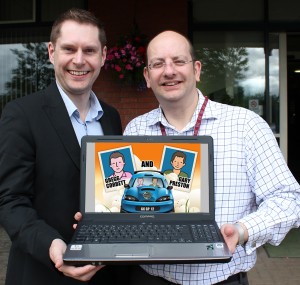 The Shropshire family of a 10-year-old girl who is battling a rare form of cancer will be taking part in a charity rally from London to Prague to raise funds for the hospital where she is being treated.
Brave Lauren Foster was diagnosed with a rare type of childhood cancer just before Christmas last year and has since undergone nine gruelling sessions of chemotherapy and a course of radiotherapy. Her doctors at the specialist Birmingham Children's Hospital told her family the best treatment for Lauren's tumour caused by the Rhabdomyosarcoma was 'proton therapy' which was only available in Florida or Oklahoma. Family and friends raised hundreds of pounds to support Lauren and her family to travel to America and her family now want any money raised to help other youngsters on the oncology ward and ward 15 at Birmingham Children's Hospital.
Gary Preston, 34, partner of Telford's Annabel Church Lettings, is Lauren's second cousin and said he immediately wanted to do something to help.
He will be joined by his friend Gregg Corbett, 33, from Dawley, in the Mission Impossible Crumball Rally next month which will see them travel between Reims, France and Prague in a Nissan Micra which cost them less than £200. Mr Preston said: "Lauren is only 10 and has gone through some pretty horrendous treatment at such a young age. But she is so brave and we hope this money can help other brave children being treated at the hospital."
Andy Smith, from Runtime UK in Wellington, has backed their fundraising event by designing their fundraising website www.laurensjourney.co.uk.
"What Gary and Gregg are doing for this brave young girl is brilliant and they deserve to raise as much money as possible. When I heard their story at a networking event I offered to help in any way I could. The website means people can read Lauren's brave story and also read the lad's blog as they are on their journey which should be quite entertaining," he said.
Mr Preston and Mr Corbett will be holding a special farewell fundraising event at Hadley Park House Hotel on July 19.
Anybody who would like to read their story or blog should visit www.laurensjourney.co.uk or to donate visit www.justgiving.com/laurensjourney.
Go To Top