Musician Business Cards
Andy Smith
March 24, 2014
Business cards come in all shapes and sizes, but these new three panel business cards are a great addition to our offering.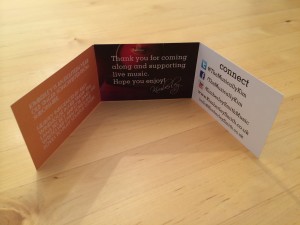 Two panel folded business cards offer a little more space than your regular business cards, offering extra space to add things like a map, product or service information, or even a couple of photos.
Our new three panel business cards take this to another dimension, so much so, that business cards isn't really a great description of what they offer.
We recently printed a set for local singer-songwriter Kimberley Smith, who performs gigs around Shropshire. She wanted two things from these cards.
Firstly, a business card that is of decent quality to give to pub landlords, bookers and agents that sets her apart from other artists. If you have been around the local music scene you will have seen the same V****print designs, on the same thin card presented by artists as a means of communicating contact details. Absolutely nothing wrong with that, but if you want to stand out, you need to be different.
Secondly, Kimberley wanted to leave something for the people in the pubs to take away with them so they can connect via social media, visit her website and Youtube. Something more than a flyer, something with a high perceived value that won't end up in the bin on the way out. Kimberley stands the cards up on the tables in the venue before the gig. Not intrusive enough to take up too much room, just enough to stand out.
And they work. Being able to play guitar and sing is just part of being a semi-pro artist. You have to build your following and promote yourself. At the first gig where these were used, an audience member in town for a conference left a glowing review on Kimberleys Facebook page for all to see. Perfect.
If you would like a sample, or to talk about how business cards could work better for you, please drop in, or call 01952 457392. Alternatively, contact us here.
Go To Top