Google Boost – What it means to your business
Andy Smith
April 26, 2011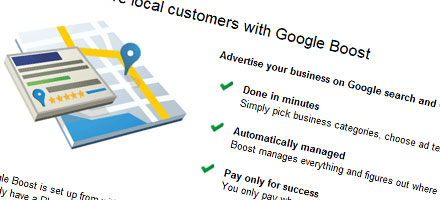 Google Boost has been rolled out in the US and is in testing in the UK.
Google Places is just like a Google Directory.  Remember that often, Google knows where you are searching from and can (and does!) provide tailored results based on some search terms.  Try Googling Taxi Service or Bakery and see if you get local results.  Scary eh?
Google Boost is Google Adwords for Google Places.  They just keep finding new ways to make money!  Normally when revenue streams are introduced for Google, they mix up the search results in popular categories so the only way to get higher is to spend.
For local searches, this is has been less important, because the big volume keywords like 'mobile phones' have a bigger bang per buck than 'Telford bakery', but seeing as Google Places is all about local, then could this signal a change?  We'll have to wait and see.
Go To Top