Food Glorious Food
Liz Reid
December 30, 2014
Alternative Meats have been customers of ours for 14 years. After a recent rebrand, we had to produce some new promotional material that would show them off at their best. They've had new Luxury business cards, glossy a6 flyers for their meat parcels and smoothwove folded leaflets to grace the shelves of Harrods and Selfridges. 
We wanted to express their branding consistently across the range and so we chose to go with black throughout. The black on the smoothwove folded leaflets accentuates the luxury feel that Alternative Meats strive for and achieve with ease. 
We can definitely say that our customers were pleased with the end result.
Alternative Meats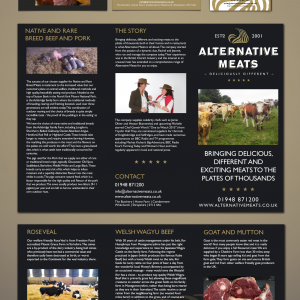 Go To Top