Edit Your Own Website
These days if you are not updating your website regularly, it can look like you have gone out of business.  We have a number of affordable packages available to enable you edit your site quickly and easily.  Its called content management, and you won't be needing any special technical skills or expensive software. 
It's all about putting you in control
Running your business is what you are best at.  You shouldn't have to spend weeks learning how to program and update your website, add pictures and news items; and now you don't have to.  If you can fill this form in, you can manage one of our websites and we don't mind showing you how to do it.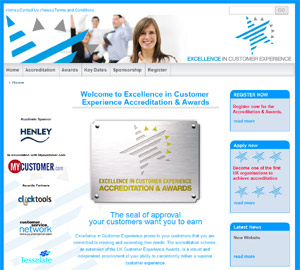 The Customer Experience Institute is an awards programme ran by the leaders in customer service benchmarking and best practice.  We are very proud to have them as clients and especially proud to have turned the site around in 14 days.
This is our third website for the client, and the third awards based website we have built. 
Would you like to talk to us about managing your website yourself? Call on 01952 457392 or do the boxes.