Facebook Content Development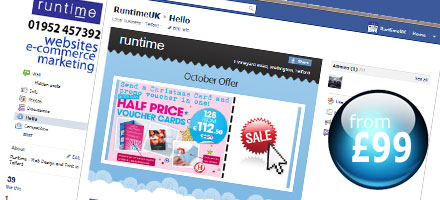 Ever wanted to tap in to the 800 million people who use Facebook? Facebook is a great place to promote your local business and allow Facebook users to promote your business to their friends and colleagues.
We are now pleased to offer Facebook Development for Businesses. We help businesses make use of their Facebook Pages, and get the most out of Facebook. Whether you sell products or provide services, Facebook is a great Social Marketplace!
Using Facebook, we can help you advertise to a wide audience and stand out with your own Facebook Page. Your Facebook page will help you connect with Facebook users and help them to share your business across the social network. Alongside your Facebook page we can help you develop competitions, promotions, customer surveys and much, much more.
Confused about Facebook and how it can help? Give us a call on 01952 457 392 or drop in to 1 Vineyard Road, Wellington, Telford. In the meantime take a look at our Facebook Page and enter the competition.
We can help design and build your page from only £99 per year.